Today Southern Azerbaijan National Revival Movement (SANRM) appealed to International Atomic Energy Agency (IAEA) for the purpose of preventing the activities of Iran on atomic energy production.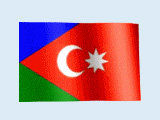 As APA informs, the appeal condemns the activity of Iran on atomic energy production: "There are secret atomic facilities in Ardabil and Moghan regions of Iran bordering on Northern Azerbaijan. Malignant tumors, gastroenterostomy and skin diseases have increased among Azerbaijanis because of these facilities".
The appeal also reads that, journalist Amin Movahidin who was fighting against such harmful researches was arrested.