"The status of Nagorno-Karabakh should be defined on legal, peaceful and democratic principles and should not be based on ethnic cleaning" - Azerbaijani Foreign Minister Elmar Mammadyarov said in his speech at the summit of OSCE Foreign Ministers Council in Ljubljana.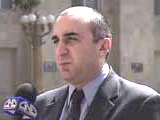 He underlined that the status of Nagorno-Karabakh can be defined only by taking into consideration the interests of Azerbaijani and Armenian communities living there equally.
"The initial condition we put forward to solve the status is liberation of the occupied territories of Azerbaijan. The transport corridors will be announced open for both sides after Armenian troops withdraw from the occupied zone. Azerbaijanis and Armenians will use Lachin corridor jointly in two directions in order to achieve effective peace. The government of Azerbaijan is ready to assist both communities to restore the infrastructure of Nagorno-Karabakh region and attract investments to the region," stated Mammadyarov.
The head of MFA stated that, the definition of the status of Kosovo cannot cause precedent, regardless of the result. It must be reminded that, Armenian Foreign Minister Vardan Oskanyan stated in his speech at the summit of OSCE Foreign Ministers Council in Ljubljana that Eastern Timor gaining independence, agreement signed between the conflict sides in Sudan and definition of the status of Kosovo can play as precedent for the Nagorno-Karabakh conflict. Oskanyan also informed the journalists about the unofficial meeting with his Azerbaijani counterpart a day before.
According to Oskanyan, the date and place for the next talks have not been fixed yet. "The Presidents and Foreign Ministers take great interest in continuing the talks but concrete date and place of the talks have not been coordinated yet. I am sure that the date and place of the meeting will be fixed during the visit of OSCE Minsk Group co-chairmen to the region amidst December," said Oskanyan.
APA