The head of the media and information policy department of the Azerbaijan's Foreign Ministry Tair Tagizade made a statement-response to the Armenian Foreign Minister Vardan Oskanyan who few days ago stated that:"Karabakh is an integral part of Armenia, which will never pass to Azerbaijan".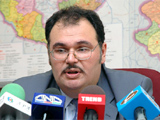 "The latest statements of the Armenian Foreign Minister Oskanyan put the negotiation process on the Nagorno-Karabakh conflict in a complicated position," noted Tagizade.
According to Tagizade, the Armenian Foreign Minister perfectly understands that making such statements he puts in a difficult position not only his side, but also the international mediators, the OSCE Minsk Group co-chairmen. "The process of the peaceful negotiations is rather complex, although developing positively, and the statements of that kind are not in our favor," said the Azerbaijan's FM department head.
"And even when such statements are made for the domestic use, to please someone's political interests, nevertheless, by doing it one must keep in mind their possible consequences," emphasized Tagizade. And all these talks "about one nation and the two states" and etc. evidently, bear a political character," hinted the official spokesman of the Azerbaijan's Foreign Ministry.
Trend