A forum of candidates involved in the November 6, 2005 parliamentary elections was held on November 21 at the Ashug Alesker palace of culture on the initiative of the ruling Yeni Azerbaijan Party.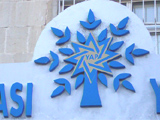 Other parties and non-governmental organizations (NGOs) also participated in the forum, Trend reports.
Opening the forum, the NAP executive secretary Ali Ahmadov said that the parliamentary elections were transparent and democratic. He said, despite the fact that the opposition tries to doubt the elections' transparency it will not reach its goal since "people made their fair choice".
The chairman of the Ana Vatan party Fazail Agamali, the chairman of the Social Welfare party Hanhuseyn Kazimli, the chairman of the Alliance in the Name of Azerbaijan Abutalib Samadov, the chairman of the Yurddash party Mais Safarli and leaders of other parties stated, addressing the forum, the elections had passed democratically.
Trend