The Cental Elections Commission (CEC) of Azerbaijan annuled the results of poll in several polling stations of 12 constituencies in its meeting on Monday, Trend reports.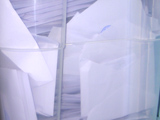 The secretaries and members of the CEC informed about the irregularities in different constituencies and proposed to annul the results in these stations.
Thus, it was resolved to annul the results in the polling stations 13, 16, 17 of the Nasimi-Sabayil constituency N 23, polling stations 15 and 26 of the Third Surakhani Constituency N 32, polling stations 6,12, 35, 36 of Absheron Constituency N 45, polling stations 3, 7, 49, 51 of the Divichi – Siyazan Constituency N 54, 3, 11, 16, 18. 21, 30 of the Khachmaz City Constituency N 55, 22,35, Salyan Constituency N 59, polling stations 1,13, 19, 23, 25, 28 of Terter Constituency N 95, polling stations 13 and 29 of Gazakh constituency N 107, 14,26, 39,42 of the Second Shaki Rural Constituency N 115.
It was also resolved to cancel results of the elections at one of polling stations of Shahbuz-Babek N 5, two polling stations of Tovuz N 105, 5 polling stations of Gakh Constituency N 112.
The cancellation of the poll results however did not affect final results of the polling in mentioned constituencies, i.e. it did not question victory of the leading candidates.
Trend
Trend