Chairman of the Central Election Commission Mezahir Penahov had meeting with the US Agency of International Development director on Azerbaijan Jim Goggin, deputy director assistant of this organization on Eurasia Drew Luten, director on the Caucasus Deny Robertson yesterday.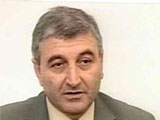 APA was informed from the press service of the CEC. Jim Goggin underlined that there is high level of cooperation between the USAID and the CEC and the Commission faces difficult responsibility at the moment. He stated that they are ready for rendering any assistance with regard to the parliamentary elections scheduled to 6 November.
Director of International Foundation for Electoral Systems office in Baku Daniel Blessington stated that, they organized seminars on 125 constituencies. The seminars have been completed on more than half of the constituencies. The CEC chairman thanked for the assistance and stressed that they have efficient cooperation with both international organizations in the direction of raising voter's awareness and awareness of the members of lower election commissions. The CEC chairman underlined that the USAID donated its gift for having democratic elections in Azerbaijan. Stating that President Ilham Aliyev's 11 May decree on improving election practices in Azerbaijan contain all the necessary items ensuring democratic elections.
M.Penahov informed about the preparation to the elections, drew attention to some plans drawn up for participation of the physically defected voters in the elections. He stressed the importance of the President's decree in registration of more than 2000 candidates and raising public confidence to having democratic elections.
The USAID deputy director assistant on Eurasia Drew Luten stated that they have been following the activity of the CEC for several months and expressed their satisfaction of the measures implemented.
The meeting also brought together associate of the USA Embassy to Azerbaijan Joan Polashik, counselor of the USAID Livia Mimika, specialist on projects office Parviz Musayev, deputy chairman of the CEC Svetlana Gasimova, director of CEC Secretariat Chingiz Akbarov. Director of the department of the international relations of the CEC Secretariat Rovzat Gasimov and head of press service Azer Sariyev.