"I think amendment will be made to the legislation regarding ensuring the NGOs for observing the elections till the elections".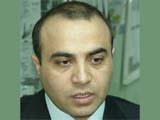 APA was told by director of Bureau of Democracy and Defense of Rule of Law Saida Gojamanli.
Reminding the importance of the forthcoming elections, S.Gojamanli stated that, there is time for making amendment.
"I'd like the amendments be made by the suggestions of NGO and other groups not by the demand of the international organization".
Chairman of Human Rights Defense Society Chingiz Ganizade considers that, there are still opportunities for the solution of this matter.
The human rights defender told APA that, the international organizations, Venice Commission have not made their final decision regarding this:" Sometimes extraordinary session of parliament is held for some amendments. I think, some amendments will be made this time and the requirements will be met".
Saying of the matter to remain open for the time being, president of National NGOs Forum Azay Guliyev believes in making of amendments. President of the Forum told APA that, they had discussed this matter in the meeting with government official:" They don't say .concretely that the item presenting obstacle to the observation of the elections by the NGOs. Therefore, we have decided to wait for the time being".