The National Coordinating Center (NCC) of the opposition will be established next week, Sabir Rustamkhanly, the chairman of the Civil Solidarity Party, said.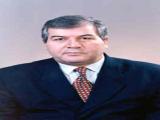 According to the Rustamkhanly, in the initial stage 23 parties will sign a resolution on the est?blishment of the NCC. Rustamkhanly noted that the organization will unite 30 parties, including the members of elections blocs "Azadliq" and "Yeni Siyaset".
Besides, the NCC will also act as a bloc on assistance to the elections, as it is established on the eve of the parliamentary elections. However, the NCC will not become an elections bloc, it will only coordinate the activities of the member-parties, unify their efforts to hold democratic elections. The candidates nominated by the parties united within the NCC will not impede each other during the elections. «The parties will coordinate their activities while distributing the candidates on constituencies. "There will not be serious collisions in the elections circles. We will come to an agreement and define the candidates," Rustamkhanly underlined. However, the issue of nomination of candidates from the constituencies still remains unsettled, he added.