Positive solution of issues related to prisoners-of-war and missed persons is very important for Azerbaijan and allows to establish the atmosphere of mutual confidence in the region, the Foreign Minister of Azerbaijan, Elmar Mammadyarov made such a statement on 8 July during the meeting with the Baku representative office's head of the International Red Cross Committee's (IRCC), Mary Vernts, Trend reports.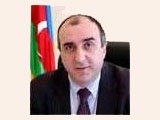 The head of the Azerbaijan's FM noted that the Azerbaijani side in this issue adheres to the provisions of the International Humanitarian Rights, whereas Armenia violates roughly theses rights. Mammadyarov noted that violations of the international law by Armenia are recorded in the reports of the OSCE Mission on facts investigation.
During the talk a wide range of issues, concerning the IRCC activities in Azerbaijan has been touched upon, particularly, the state of affairs in the country's penitentiary system, as well as the interaction of the IRCC with various state bodies.