The Parliamentary Assembly of the Organization for Security and Cooperation in Europe (OSCE) has come up with a recommendatory proposal on the introduction of unified standards for the activity of international observation missions of OSCE during the monitoring of the election process.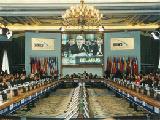 The recommendation has been set out in the Washington Declaration approved at the final sitting of the five-day annual meeting of the PA OSCE. (Trend)
The document particularly notes that the OSCE – in cooperation with other international organizations, keeping an eye on elections – recommends establishing OSCE standards (for the observation of elections) as a guiding principal for similar observation missions, in which the Organization will act as mediator and recognized expert body in corresponding issues of OSCE member nations.