The forming of the chairman's office, as well as the participation in the upcoming parliamentary elections and socioeconomic situation in the country have topped the agenda of the first meeting of the Party of Democratic Reforms' Political Council, on July 6.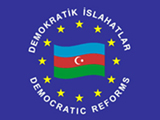 At the meeting, according to the PDR press office, Rauf Talyshinskiy, the editor-in-chief of the Russian-language ECHO daily, had been appointed the deputy party chairman for political issues, with Inglab Ahmadov, the doctor of economic sciences, getting the post of the deputy chairman for economic issues. Meanwhile, the president of the NNN group of companies, Nazim Abdullayev, was approved as the deputy chairman for entrepreneurship issue.
The participants of the meeting also made a decision on the party's participation, as part of the Democratic reforms bloc, in the upcoming parliamentary elections.
Party chairman Asim Mollazada has been elected the chairman of the PDR electoral staff, with Elkhan Aghamirzayev to act as his deputy.
The Political Council also agreed on the plan of the upcoming activities of the organizations.