The ambassador of the Islamic Republic of Iran in Azerbaijan Afshar Suleymani held a press-conference yesterday.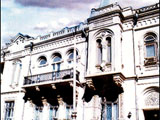 The ambassador giving information about the returns of the presidential elections in Iran stressed that the attitude of the newly elected president Mahmud Admadinijat to Azerbaijan is positive; the relations with Azerbaijan will not be damaged during his presidency period, on the contrary, will more develop: "Mahmud Ahmadinijat likes Azerbaijan very much. He was on a visit in Azerbaijan when he was a governor-general of Ardabil and helped collaboration of Iran with Azerbaijan". According to the words of the ambassador, the newly elected president had special role in providing the Autonomous Republic of Nakhchivan with fuel.
The ambassador in response to the question "What will be the attitude of the newly elected president to the Nagorno Karabakhproblem?" answered that "Iran always supported territorial integrity of Azerbaijan and helped the refugees and internally displaced persons". The ambassador explaining the relations between Armenia and his country stressed that the foreign policy of Iran is based upon the Constitution, and the neighborhood relations are paid much attention. Afshar Suleymani informed that any change in the position of Iran about the status of the Caspian Sea depends on the talks and said that both the two-sided and five-sided meetings will be continued: "There should not be any problem between the neighbor and brother countries".
The ambassador refuted the information about shooting at the Azerbaijanis making a march to the Babek tower said: "That place is visited as the religious and national monument, people from whole Iran visit there, but no incident happened there".
The diplomat accused the persons making actual the question of Southern Azerbaijan of "damaging Azerbaijan very much" said: "Putting forward this question is not convenient for the interests of Azerbaijan, and it is not good for interests of Azerbaijan. What have the persons raising this question done for the independency and territorial integrity of Azerbaijan", he said.
/APA/