The Baku Office of the OSCE did not change its position of the staff of elections commissions. Maricio Pavesi, the head of Baku Office of OSCE told journalists that the Azerbaijani government was informed on position and recommendations of organizations in this respect, Trend reports.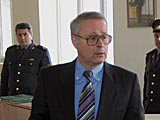 According to Pavesi, the changes should be injected in the staff of the elections commissions. «OSCE's position on the parliamentary elections to be held in autumn is clear. We have repeatedly recommended the Azerbaijani government to change the staff of the elections commissions. The Council of Europe also wants it. The report developed by the Council of Europe and OSCE Bureau on the democratic institutions and human rights, reflects the issues. The results of talks with the Azerbaijani government were also included I n the report," Pavesi noted.
OSCE will dispatch 300 people to Azerbaijan to observe the elections in November. Some opposition parties considered this number too less and demand their increase. Pavesi noted that the number of observers is really insufficient. «OSCE Office for Democratic Establishments and Human Rights is specialized in the sphere of elections. The organization implemented observation over the elections in many countries. If it considers 300 people will be enough to observe the elections, then it is right figure. Besides, it is necessary to take into consideration that observers from other organizations will also observe the elections,"- Pavesi underlined.