President Ilham Aliyev yesterday signed order on appointing ambassadors of Azerbaijan in Latvia and Moldova. According to the information given to APA from President's Press Service, Tofig Zulfugarov was appointed to the position of ambassador of Azerbaijan to Latvia and Isfendiyar Vahabzade to Moldova.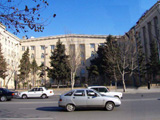 It must be noted that, T.Zulfugarov is former Foreign Minister and I.Vahabzade worked as ambassador to Pakistan.
APA spread news about T.Zulfugarov's appointment as ambassador to Latvia some weeks ago. T.Zulfugarov reported to APA after the appointment, he said that he concealed this appointment.
Stating that he has met the President yesterday, T.Zulfugarov said that the head of state is deeply interested in the cooperation with Baltic States, too: "President also told that these countries are of great importance for Azerbaijan. Despite of being post-Soviet countries as Azerbaijan, Baltic States developed more rapidly and the cooperation with these countries is important for Azerbaijan". Saying that he has mandate of ambassador to Estonia too, T.Zulfugarov told that he will be busy in establishing the Embassy, forming the staff and other technical works.