Armenia has no territorial claims to Azerbaijan, a special representative of the Azerbaijan's President on Nagorno Karabakh conflict, deputy Foreign Minister of Azerbaijan, Araz Azimov told Trend at the briefing on 20 June.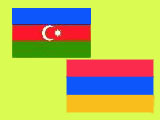 According to him, Armenia refuses its demands from Azerbaijan to give the corridor on the territory of the Lachin region. According to the deputy Minister, the issue of opening the main road Agdam-Shakhbuz (Nakhchivan) is currently under consideration. Azerbaijan offered Armenia restoration and the two-way operation of the road Agdam-Khankendi-Shusha- Lachin-Armenia -Nakhchivan (from there to Turkey).
The advantage of this road, in the diplomat's opinion, is in the fact, that its usage by both sides will retain them from blocking it.  According to Azimov, for the restoration of the road no big money is needed. Its security, as well as the security of other strategic points the international peacekeeping forces will ensure, the diplomat said. Azerbaijan waits for the positive reply from Armenia, deputy Minister said.