On April 8, President of the Azerbaijan Republic Ilham Aliyev has received at the International Airport after Heydar Aliyev the Secretary General of the International Organization "Reporters Without Borders" Mr. Robert Menard.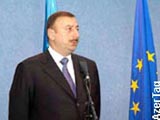 The head of state highly has estimated cooperation with this organization.
Having expressed gratitude for reception, Robert Menard has taken interest in situation in the field of freedom of speech and press in Azerbaijan.
President Ilham Aliyev has stopped on situation of press in the country, maintenance of freedom of speech, abolishment of censorship, the conditions created for activity of mass media, including the measures accepted last years by the state in connection with improvement of their material base, tax exemption.
Then, has been mentioned the question of revelation of murder of the editor-in-chief of magazine "Monitor" Elmar Huseynov. The head of state has told about accepted in this connection measures, carrying out after the session of Security Council, and told: "Strict assignment connected to disclosing of this crime has been given to law enforcement bodies. The course of investigation is under the control, and this murder should be opened, as it is a stain for democratic development of Azerbaijan".
Robert Menard, having expressed satisfaction with the carried out meetings in Baku, has noted, that in connection with the said question would keep in contact with Administration of the President, other state structures and public organizations. He has emphasized, that the situation in the field of freedom of speech in Azerbaijan is basically the same, as in the democratic states.