Deputy of Azeri Parliament Anar Mamedkhanov has commented on the statement of the former Russian co-chairman of the Minsk Group of OSCE Vladimir Kazimirov, concerning incompetence of the rapporteur of Parliamentary Assembly of the Council of Europe on Nagorno Karabakh David Atkinson.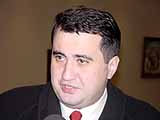 "Once again I have to underline, that mister Kazimirov is remorselessly lying. Having read news on his meeting in "Yerevan" hotel, I was once again convinced, that mister Kazimirov holds all opponents for naive fools.
During that meeting, Kazimirov addressing to Mr. Atkinson and to all Western analysts, arrogantly suggests them to study the Soviet laws according to which Nagorno Karabakh has left Azerbaijan.
Mister Kazimirov probably thinks that the Western analysts still live in informational isolation and cannot find the Soviet Constitution in any way.
Mister Kazimirov, specially for you I quote clause 78 of chapter 9 of the USSR Constitution. "The territory of union republic cannot be changed without its consent. Borders between union republics can be changed under the mutual agreement of corresponding republics which is a subject to the approval of USSR."
Knowing your selective memory, I quote clause 87 of chapter 11 of the USSR Constitution. "In the Russian Soviet Federal Socialist Republic there are following autonomous regionst: Adygey, Mountainous -Altay, Jewish, Karachaevo-Circassian and Khakass. In the Georgian Soviet Socialist Republic there is South-Osetian autonomous region. In the Azerbaijan Soviet Socialist Republic there is the Nagorno-Karabakh autonomous region. In the Tadjik Soviet Socialist Republic there is Mountainous Badalkhshanskaya autonomous region."
I do not think, that mister Kazimirov does not know all of these, simply once again it would be desirable to show, that the former intermediary does not hesitate in a choice of propaganda tools to justify aggression and separatism."
Day.Az