On 19 April, Round table on "The situation of human rights in Azerbaijan within the obligation taken in front of Council of Europe" organized commonly by Henri Boll Fund and the Federation of the Human Rights Watch Organization will be held in International Press Club.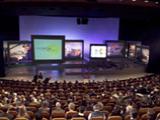 The information was given to APA by the director of Humanitarian Investigations Society Avaz Hasanov.
Discussions will be held mainly about the democratization and the situation of human rights in Azerbaijan with the delegation that was the participant of the 6th cooperation meeting of European Union-Azerbaijan parliamentarians of the European Parliament.
In the round table, the guests will definitely be given information about the establishment of Public TV, institute of law and situation about political prisoners. Head of the delegation of European Parliament Mari Ann Isler Bege, head of South Caucasus office of Henri Boll Fund Valter Kaufman, director of Peace and Democracy Institute Leyla Yunus and political scientist Rasim Musabeyov will make speeches in the measure.
It must be mentioned that, Henri Boll Fund have held several round table talks on the topics mentioned above.