Russia and Azerbaijan have agreed to continue consultations on delimitating the Russian-Azerbaijani state border, sources at the Russian Foreign Ministry said after a session of the two countries' border commissions.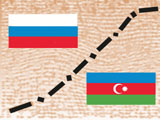 The sides exchanged opinions on where the demarcation line should be located at three sections of the state border, on which they have not reached agreement yet.
"Russia and Azerbaijan have coordinated almost 90% of the borderline," the sources said.
"To study the situation on the spot, the commission members visited the border near a hydro system on the Samur River," they said.