The working group, established on the eve of parliament elections for uniting of political parties, social structures, non-governmental organizations and intelligentsia, continues its activity.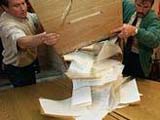 The agency Trend reports, the Coordination Consultative board of the organization "For free  and just elections" informed about this.
The Consultative board took responsibility to coordinate all political forces, representatives of intelligentsia and public figures, which decided participating at elections. With this at the end, negotiations are conducted with political parties and non-governmental organizations, where issues on creation of common list of candidates are discussed.
The Consultative board is interested in the list of candidates of several parties with aim to expand it by means of joining of candidates from other public-political forces to it. Negotiations with leadership of parties are held at this point.