Vice-minister of National Security, general-major Tofig Babayev, deputy of executive director, Colonel Seyfulla Gasimov and department chief colonel-lieutenant Sahib Naghiyev were dismissed from their duties.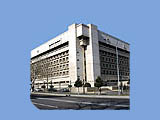 Measures of serious discipline reproach were taken about 7 more associates of MNS. This is stated in the information spread by MNS center of Public Affairs. According to the information given from the centre of Public Affairs, President Ilham Aliyev pointed out the inactivity within the check up of the written information sent to MNS from Republic Procurator's Office in 2001 for investigating against-law actions done by the group headed by Haji Mammadov. President stated this in the ceremony of awarding the associates of MNS especially distinguished during the "Black belt" operation.
After that, special control group was formed in the ministry and internal investigation was held. It was determined that, the names of most members of the group rendered harmless who have already been sentenced in 8 operation tasks entered to MNS from Republic Procurator's Office in 2001-2003 on criminal works that began on the facts of death of Azer Ismayilov and Rovshan Aliyev.
But ex-minister Namig Abbasov and vice-minister realizing curator's duty in operation field Tofig Babayev gave no directions within that.  Necessary measures in this direction were not held, operation counsellors were not documented, and necessary decisions were not adopted. MNS associates being responsible for that were punished. /APA/