On April 5-6 meetings of political and juridical committee of Parliamentary Assembly of Council of Europe will be held.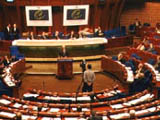 Head of delegation of Azerbaijan in PACE Samad Seyidov and member of delegation Ali Huseynov will also take part in the meetings. APA has been informed of it by deputy S.Seyidov.
The deputy informed that in the meeting of political committee to be held on April 5, events happened in Chechnya, nuclear weapon program of Iran and other matters will be discussed. In the meeting of juridical committee the latest changes in Europe will be put into discussion.
At the same time, on that day, rapporteur of PACE on Azerbaijan Malcolm Bruce will bring the information  about the last pardoning signed by  president Ilham Aliyev to the attention of  meeting participants. "As it is evident, pardoning was signed after visit of Bruce to Azerbaijan. That means that persons considered being political prisoners by Council of Europe, after his visit they were liberated. Co-chairman will give information in relation with it".
It must be noted that, Malcolm Bruce is expected to make a speech in Political Committee of PACE on 6 April.