Political parties, nominating their candidatures, are to allocate quota for women.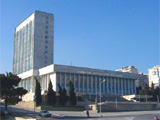 The agency Trend reports, the chairman of Society of rights of women after D.Aliyeva, Novella Jafaroglu informed about this.
She said, with aim to exclude failure of women at the last year municipal elections, political parties are to pay special attention to nomination of candidatures of women: "Parties are to support candidatures of women, conduct active works for them to win at elections". N.Jafaroglu considers, 30% members of parliament are to be women. Thus, greater number of women candidatures is important at these elections.
N.Jafaroglu said, during municipal elections, 5% of candidatures of women from 30% of candidatures were registered all over the state. 4,6% from this  number won at elections.