The complainants of the law enforcement bodies are going to hold protest action on April 4.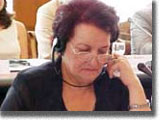 The protest will take place in form to the Ombudsman's Office till the President's Office. APA was informed of it by the representative of the complainants Zahide Azizova.
According to Z.Azizova, the promises are not fulfilled: "We were received by the Ministry of Justice Procurator's Office of Republic and Head Police Administration Office of Baku city after the first action. It is worth while noting, our problems were listened and most of them were solved in the Ministry of Justice and in Head Police Administration Office of Baku city.
Prosecutor-general Zakir Garalov didn't want to listen to us with the pretext that, he had received us before. Interior Minister Ramil Usubov forgot about his promise and didn't meet us. That is why we shall hold action again on Sunday. This time we shall demand the Commissioner on Human Rights Elmira Suleymanova's resignation. She doesn't execute her duties well."
It must be noted that, the complainants held a protest action in front of the Ombudsman's Office from morning till midnight on March 28.
/APA/