Current chairman of OSCE, Minister of Foreign Affairs Dmiri Rupel was on a visit to Armenia. In the frames of the visit he met with President Robert Kocharyan.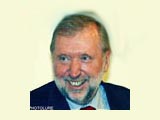 In the meeting, particularly, the process of regulation of Karabakh conflict was discussed. Rupel stated the importance of the relations and talks between the sides of the conflict, and stressed once again that, OSCE is ready to mediate the process. R.Kocharyan as usual stated that, the participation of separatist regime occupying Karabakh in the talks may affect the regulation process positively.
Exchange of opinions within OSCE-Armenia relations was also held in the meeting. Karabakh conflict was prior topic of the meeting of OSCE chairman with the Minister of Foreign Affairs of Armenia Vardan Oskanyan. D.Rupel called Karabakh conflict unique because of all its parameters and that it didn't resemble other conflicts in post-soviet sphere. He stated his hope to the meeting of Azerbaijan and Armenia presidents to be productive. Besides, stressing Azerbaijan and Armenia to be the main sides of the conflict D.Rupel said he will discuss with official Baku the matter of invader separatist regime to attend the regulation process.
D.Rupel expressed his anxiety about the intensive violation of ceasefire. OSCE chairman also met with the head of separatist regime occupying Karabakh Arkadi Gukasyan. D.Rupel giving report to journalists after the meeting lasting half an hour stated that, suitable conditions will be present for the negotiations among Azerbaijan, Armenia and Nagorno Karabakh in late summer: "This will cause a good perspective in the direction of the regulating the conflict peacefully". /APA/