The Azerbaijan leadership strives for fair settlement of Nagorno-Karabakh conflict on base of norms of international law.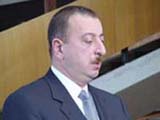 The Agency Trend reports, the Azerbaijan president Ilham Aliyev's statement reads for public on the eve of Genocide day, commemorated 31 March.
"We call Armenia to envisage elementary legal norms, not to lose sense of reality and to undertake steps, directed for relevant options of settlement, indicate the head of state. However, it is also necessary to accept clearly, that basic principle of settlement of Nagorno-Karabakh conflict is territorial integrity of Azerbaijan, returning of displaced persons to native land.  Negotiation process may not continue endlessly. Armenians are to understand this".
"The encouraging fact is that authoritative international structures adopt resolution, confirming occupation of Azerbaijan territories by Armenia and urge it liberating of occupied lands. Negotiations on options of settlement of conflict are held", I.Aliyev indicates.