The Consulate department of the Azerbaijan Foreign Ministry registered about 100 thousand visas in 2004. Agency Trend reports, the chief of consulate department of Azerbaijan MFA Nadir Huseynov informed 30 March.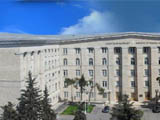 He said, 35 thousand visas from this number were issued at international airport after Heydar Aliyev, 55 thousand visas were registered at foreign representative offices of Azerbaijan, another 15 thousand visas were issued by consulate department to foreign citizens, accredited at diplomatic representative offices of foreign states in Azerbaijan, members of different organizations. Last year the department refused issuing visas to 15-20 foreigners, who were in the list of citizens, permanently violating rules of visa.
The Chief of department said, today there are 40 diplomatic representative offices of Azerbaijan, where consulate departments function in foreign state.  Presently, consulate departments of MFA issue only two types of passports:  service passports and diplomatic passports. Since 1998 the department has registered 2300 diplomatic and 12500 service passports, now only 600 diplomatic and 3000 service passports from this number are valid.
N.Huseynmov said, MFA of Azerbaijan commissioned diplomatic representative offices of Azerbaijan abroad to simplify the process of issue of visas to foreigners, for exclusion of problems on this issue. Presently, Azerbaijan has general consulates in Saint Petersburg, Tebriz, Kars and opening of consulates in several big cities of Russian Federation in the nearest future is planned.