The Supreme Court of Azerbaijan declined appeals of pardoned 7 opposition leaders about their acquittal and reverse of decision of Appellation court.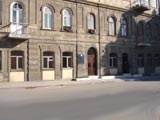 The  Agency Trend informs, oppositionists were sentenced to different terms of  imprisonment on charge with organization of mass disorders in Baku, 15-16  October 2003.
The Judge of Supreme court Nariman Huseynov, while reading sentence, said  due to lack of arguments of defense of Appellation court about guilt of  oppositionists, who organized mass disorders and attempted changing results of  presidential elections to their favor, are valid.
The court on grave crimes sentenced 2 October 2004 the deputy chairman of  "Musavat" Arif Hajily and the editor-in-chief of the paper "Yeni Musavat" Rauf  Arifoglu to five years imprisonment, the chairman of People's Party Panakh  Huseynli and general secretary of Democratic party of Azerbaijan Sardar  Jalaloglu to 4,5 years of imprisonment, the chairman of party "Umud" and the  deputy chairman "Musavat" Ibrahim Ibrahimov to 3 years and the chief of society  of Karabakh vets to 2,5 years of imprisonment. The Appellation court remained this decision valid.
"This illegal decision was adopted by order of political leadership and we didn't expect any other thing. We expected this decision of Supreme Court with aim to pass all court instances for appellation to European court on human rights. As soon as we get resolution of Supreme Court, we shall appeal to the European Court and we'll try to acquit them for government to compensate for keeping under arrest more than a year and for tortures, they were subjected", the advocate of oppositionists Osman Kazimov said to agency Trend. He said, political leadership of the state, not acquitting released oppositionists one week ago "wishes withdrawing them from parliament elections".
The agency Trend reports, the Deputy of executive secretary of the party "Yeni Azerbaijan" Mubariz Gurbanly stated, all decisions were adopted by the court on base of requirements of the legislation of the state. The Supreme Court taking into account the corpus delicti of their crimes during events of 15-16 October 2003 didn't reverse the decision adopted by court. ?.Gurbanly said,  "Every citizen of Azerbaijan has a right to apply to the court of higher  instance in case of non-satisfactory decision by the court of lower instance".  The political specialist considers appellation of oppositionists to European court in case of non-satisfactory decision of courts in the state as natural process.