The vice ?resident of Islamic Re?ublic of Iran (IRI), chief of de?artment of tourism and ?rotection of historical monuments Seyid Huseyn Marashi is to ?ay visit to Azerbaijan, 6 A?ril.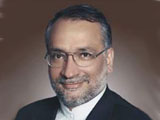 IRI ambassador to Azerbaijan Afshar Suleymani informed about this agency "Trend".
He said, the ?ur?ose of the visit is discussion of ?ros?ects of coo?eration in future with Ministry of youth and tourism of Azerbaijan. The visit was ?lanned for beginning of March. However, in connection with ?ro?osal of Azerbaijan ?arty the date of visit was ?ost?oned to A?ril.
As it is known, the IV Azerbaijan international tourist exhibition is to be held in Baku, 7-9 A?ril.  The ?arties considered this date for conducting of negotiations in the area of coo?eration as relevant-said ambassador.