Law project "about mortgage" was discussed in the second reading and adopted in the second part of today's meeting of Milli Mejlis (parliament).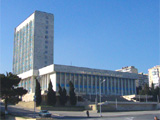 Then national deputies discussed the matter on formation of Public Television and Radio Broadcasting Council (APA).The national deputy Rizvan Jabiyev informed that, the Broadcasting Council will function as controlling organ comprising of 9 persons.
Its members will be elected for 6,4 2 years period. National Deputy Sabir Rustemkhanli stated that, regardless of identity of members of Broadcasting Council, Public Television (PTV) has duty to serve the community. National deputy Jamil Hasanli said of the law "About PTV" to be full of shortcomings. According to him, it will have negative results in appointing non-specialty members not professionals. As the result of the discussions 9 out of 27 candidates were elected as members of Broadcasting Council.
So, memberships of Aagil Dadashov from Confederation of Tread Union Organizations, Vagif Abassaov from National academy of Sciences, Cahanghir Mammadli from Press Council, Fuad Muradov from youths organizations, Natig Shirinzadeh from Council of Owners, Zarifa Salahova from women organizations, Aghajan Abiyev from sport federation, Salman Musayev from religious organizations, Altay Zahidov from activity organizations were  confirmed to Broadcasting Council./APA/