Yesterday President Ilham Aliyev has received delegation of UNO Economical and Social Commission on Asia and Pacific Ocean (UNESCAP) and UNO Economical Commission on Europe (UNECE).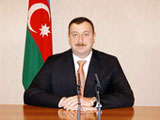 I.Aliyev saying that the visit of delegation of UNESCAP and UNECE to our country to have opened a new page in the cooperation, he also stated of great developing is on in Azerbaijan, microeconomic and other economic indications increased rapidly.
The head of the state noted of several programs on economical development to be implemented in Azerbaijan and more than 170 thousand new job places to have been opened in the country during last one year. He also said of cooperation in this sphere between international organizations and Azerbaijan to be in high level. Stating that, great global energy projects are realized in Azerbaijan successfully, the head of the state noted that, social ensuring is driven more attention too.
I.Aliyev said that, at the result of Armenian aggression to Azerbaijan 20% of our territories were occupied, more than 1 million Azerbaijanis became refugees and internally displaced people and this prevents cooperation and development in the region: "This conflict is great obstacle to the whole regional security and improvement of economical processes. International organizations should draw attention to such matters."
Executive secretary of UNECE, deputy general secretary of UNO lady Brigita Shmognerova highly appreciated the membership of Azerbaijan to UNO Economical and Social Commission on Asia and Pacific Ocean. She said of active participation of Azerbaijan in regional economic development processes to be highly appreciated by UNESCAP and UNECE. B.Shmognerova expressed her sureness that, membership of our republic to UNESCAP will give its gift to the expansion of regional economical cooperation of Azerbaijan with Middle Asian countries./APA/