Issue and spread of post stamps by Armenia by the name of the occupied Nagorno Garabagh territory of Azerbaijan has been prevented.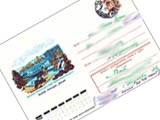 It was possible after Ministry of Foreign Affairs (MFA) of Azerbaijan applied Universal Post office Union. Head of pres service of MFA Matin Mirza informed of it in the press conference today (APA).According to M.Mirza, new chief director of UPU has sent circular letter to all member countries of the Union. MFA gave instruction to all Embassies of Azerbaijan to present its document to the officials of the countries.
It is stated in the document that, publishing and spread of any post stamps by the name of alleged "Nagorno Garabagh Republic" is inadmissible:"Nagorno Garabagh is part of Azerbaijan; such step is considered as disrespect to territorial integrity and sovereignty of Azerbaijan.