Yexterday president of Forum of National Non-governmental Organizations Azay Guliyev met country director of National Democracy Institute Christy Kverc, program employee Sasha Brus, and program director Sam Sager.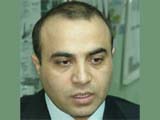 APA was informed of it from press service of FNNGO. Christy Kverk stated that, the organization he represents is concerned in holding the forthcoming parliamentary elections in the atmosphere of fair and transparency.
According to him, NDI considers it important to collaborate with political parties and NGO for ensuring the elections to meet democratic principles. A.Guliyev speaking of the forthcoming parliamentary elections to be of special importance for our country noted that, some changes in the legislation are inevitable.
"Changes should be made to Election Code. Participation of NGO in CEC as neutral power is important. NGO should be charged with the responsibility of function of public watch from the beginning till the end of the election process. Establishing of Public Television for creating equal conditions for all sides in the election process should be accelerated." A.Guliyev expressed his hope that, article restricting observing right of NGO will be abolished in the legislation.