Investigation group consisting of associates of MNS, MIA and Procurator's Office of Republic formed for investigating the murder of editor-in-chief of the magazine "Monitor" Elmar Huseynov who was murdered on March 2 is continuing its work.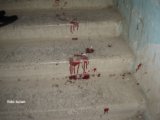 A group of investigators came to Azerbaijan from Turkey also to aid the investigation. APA was informed of it by Eldar Majidov - head prosecutor of Investigation Office on Cases of Grave Crimes of Procurator's Office of Republic. The prosecutor stated that, 5 police associates have come from Turkey. They are holding investigations together with Azerbaijani investigators.
"No suspicious person concerning the incident has been detained yet. The murderer or murderers were not seen by anyone. That is why work is done on the considerations for the time being. All versions and details are investigated."
The prosecutor said that, besides gun, cap and waistcoat, stubs of cigarettes have been taken as material proof and sent to the expert. It must be noted that, special agent of Federal Investigations bureau of the USA ,attache of law who came to Azerbaijan two days after the incident was in the place of the incident.
The special agent is said to take part in the investigations held by prosecutor.