Iran is working over concrete issues directed at the implementation of documents signed during the recent visit of Azerbaijani President Ilham Aliyev's visit to Iran, Mehdi Safari, the special envoy of the Iranian President, said in a meeting with Azerbaijani President Ilham Aliyev on Tuesday.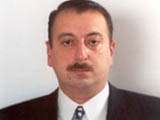 Safari said that official visit was held successfully and voiced his confidence in the constant development of bilateral relationships.
Voicing his satisfaction with the development of relationships between Iran and Azerbaijan in different spheres and in compliance with the interests of the two nations President Aliyev stated his satisfaction with the visit to Iran and meetings held with the heads of the country.
He noted that the document signed in Tehran, as well as the talks and discussions assume special significance on further proximity between the two peoples. President Aliyev voiced his confidence in the further development of bonds.