Today extraordinary and plenipotentiary ambassador of USA to Armenia John Evans held a press conference within the things he told in his meeting with the members of Armenian community.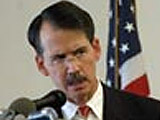 It must be mentioned that, J.Evans in that meeting stated the impossibility of returning Upper Garabakh to Azerbaijan.
J.Evans in the press conference stated that, the attitudes told in his meeting with community within the slaughter against Armenians during Ottoman Empire period and future status of Upper Garabagh may be misunderstood: "My mentioning the word "genocide" is not the political official's but John Evans' personal position. It seems, that was not correctly used in its place. What I said caused misunderstanding concerning the policy  about status of Upper Garabagh pursued by  the USA.USA Government recognize territorial integrity of Azerbaijan and considers that, the status of Upper Garabagh should be defined at the result of the talks between Armenia and Azerbaijan.
The United States keeps on supporting the solution of Upper Garabagh in the frame of Minsk group of OSCE. The continuation of the dialogue of Ministers for Foreign Affairs of Armenia and Azerbaijan makes us to hope. I feel pity that, my words have been misunderstood."/APA/