Germany is ready to assist Azerbaijan in integration into the Euro-Atlantic bodies, Detleph Lingemann, the German Ambassador to Azerbaijan, told a news conference on Wednesday.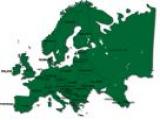 According to Lingemann, Azerbaijan is one of the major partners of Germany in the European Union (??). The Ambassador regarded Azerbaijan's joining to New Neighborhood Policy as an important decision and it demonstrates Azerbaijan's readiness for joining the European values and legal unity. "The implementation of the obligations by the Council of Europe and international organizations will bring Azerbaijan closer to Europe and create necessary basis for foreign investors in term of diversification of the Azerbaijani legislation," the diplomat noted.
Lingemann said that the priority of bilateral relationships is the cooperation in the sphere of economy. Germany assists Azerbaijan in the development of private economy, implementation of agrarian reforms, as well as legal and agrarian reforms, energy and water supply. During the entire period of cooperation Germany delivered 300m euros worth of assistance to Azerbaijan.
Lingemann presented the credential to the Azerbaijani President on 22 February. Thus far he took the post of charge d'affaires of Germany in Azerbaijan.