President Ilham Aliyev addressed Azerbaijan nation on the occasion of 13th anniversary of the tragedy of Khojali.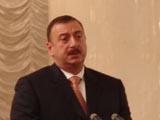 APA was informed of it from press service of the President. Calling the genocide of Khojali to be sorrowful and painful page in the history of our nation, the cruelest, merciless massive terror act against humanity, the president stated that, Azerbaijan nation survived the hardest and the most painful moments of their fate on February, 26 in 1992."On that day old city of Azerbaijan Khojali was removed from the earth by Armenian Military Divisions. Hundreds of innocent residents were murdered with tortures that have no analogy in the history without any military necessities, the dead bodies were insulted. Children, women, the adults, the whole families were murdered. One of the painful crimes was committed in the end of 20th century not only against Azerbaijan nation, but also against the whole mankind. The tragedy of Khojali has special place among the crimes committed against the mankind by its painfulness, savagery and mercilessness."
Considering the tragedy of Khojali to be the constituent part of policy of genocide and ethnic cleaning of Armenian nationalists against Azerbaijan nation for more than 200 years, Ilham Aliyev stated that, this fight was held by military, economic, ideological, cultural means by using the opportunities of Armenian Diaspora and lobby. Stressing that, the forces in the Azerbaijan authority didn't inform the world public about the genocide, during the tragedy of Khojali, the president said, this bloody crime was given its political-juridical value after national leader Haydar Aliyev was back to the authority, measures were held for it to be known as genocide by world states and international organizations.
And Ilham Aliyev stating that, today Azerbaijan makes regular attempts for solving Armenia-Azerbaijan, Upper Karabakh conflict said fair position of Azerbaijan is confessed in international world. "Today Khojali genocide is driven to the discussion in the parliaments of great states; its details are announced to the society".
President commemorating the memories of Khojali heroes and martyrs in great sorrow gave his condolence to Azerbaijani nation: "I think the existence of independent, powerful and democratic Azerbaijan state and its regular development may be consolation for the souls of martyrs". /APA/