Ilham Aliyev has attended ceremony, on launching first oil production from Central Azeri (CA), one part of Azeri-Chirag-Guneshli (ACG) oilfields.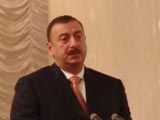 According to the information given to APA from press service of "bp-Azerbaijan" company, launching of oil production in ACG oilfield has been proclaimed officially by this ceremony.
It was informed from the company that, the production in CA will increase after other pre-drilled wells exploited. Totally about 35 million barrels oil is predicted to be produced in CA in 2005 (that is 93 000 barrels oil daily on average).