Akif Naghi-head of Karabakh Freedom Organization (KFO) held after conference within the anniversary of Khojali slaughter.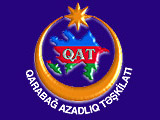 A.Naghi stated that they will present the signatures gathered from about 650 displaced people to international organizations and Diaspora organizations activating in foreign countries, the offices of international bodies situated in Azerbaijan and the embassies of foreign countries.
The document is signed by displaced people settled in Naftalan, Mardakan and "Gizilgum" sanatoriums. KFO chairman stated that, an appeal of 5 offers within Khojali slaughter has been sent to Murtuz Aleskerov-speaker of Milly Majlis and the members of parliament.
The following offers took place in the appeal: to hold special meeting of Milly Majlis on the eve of Khojali slaughter anniversary, to accept political decision about Khojali slaughter, to have aimed work for holding discussions within this slaughter in the parliaments of world states, to issue special status to the victims of slaughter and their family members.  
In the last meeting of KFO it was decided to hold protest actions in front of the building of Milly Mejlis in case the offers refuted, but the organization eliminated these acts as it considered them outrage to Azerbaijan people. A.Naghi informed that 12 year old children losing their fathers in Khojali slaughter will hold protest acts and commemoration on February, 19 in Naftalan.
On February 26, monument for the memory of people died in the slaughter will be visited together with Khojali displaced people within Khojali tragedy. On the same day measure called "internet forum" will be held in International Press Center and transmission on air will be held with Azerbaijanis living abroad besides local organizations.