Azerbaijan sent 769 complaints to European Court on Human Rights (ECHR) in January 2005. Ayten Shirinova, the head of EU office in Azerbaijan, informed Trend.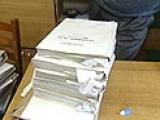 The majority of complaints 160 out of them were sent back as they were not considered in accordance with European Convention on Human Rights (ECHR). According to A.Shirinova, 110 statements were rights for effective court investigation, 28 statements for property rights, 23 for rights for effective protection, 16 for rights of private immunity, 11 for freedom of speech, 10 for rights of respect in family and in personal life and 7 for freedom of gathering.
Besides, communique was sent to Azerbaijan for coordination on 16 complaints examined in ECHR. The complaint of leader of self-proclaimed Talish-Mugan Republic Alikram Humbatov, nowadays living in Netherlands, and the complaint of a member of Azerbaijan Democratic Party Faina Kingurova are among above-mentioned 16 complaints. F.Kingurova was in jail in 2002-2004 in accusation of making a scene in the capital and physical violence to her neighbor. Both of them sent their complaints to ECHR requesting compensation from Azerbaijan for moral detriment.