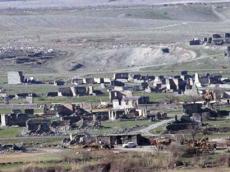 By Azernews
By Abdul Kerimkhanov
The issue concerning the Armenia-Azerbaijan Nagorno-Karabakh conflict was raised during the third meeting of the speakers of the parliaments of Eurasian countries.
Speaking at the meeting, speaker of the Azerbaijani parliament Ogtay Asadov stressed that the prosperous future of the peoples living on the Eurasian continent can only be built on the basis of mutual economic cooperation, good neighborly relations, mutual respect, humanism and tolerance.
Asadov said that wars and hotbeds of conflicts that flaring up on the Eurasian continent, including the Nagorno-Karabakh conflict, continue to greatly limit the development of a vast region.
"For over 25 years, the Armenian armed forces continue to occupy 20 percent of the internationally recognized territories of Azerbaijan, that is, the Nagorno-Karabakh region and seven adjacent districts. As a result of ethnic cleansing, one million civilians were expelled from Armenia and occupied Azerbaijani territories," he said. 
Asadov also added that according to the resolutions # 822, 853, 874 and 884, adopted in 1993 by the UN Security Council, as well as resolution # 62/243, adopted in 2008 by the UN General Assembly, the sovereignty, territorial integrity, inviolability of Azerbaijan's borders were uniquely confirmed.
He went on to say that according to those resolutions, the Armenian armed forces must be immediately withdrawn from the territories of Azerbaijan.
"Unfortunately, international efforts to date to resolve the conflict have not had any effect due to the non-constructive and destructive position of Armenia," Asadov said.
He also pointed out that unresolved conflict is a source of constant threat to peace and stability not only in the South Caucasus region, but also on the Eurasian continent, and throughout the world.
"I am confident that in this matter the international community, finally, must say its weighty word and the conflict must be resolved on the basis of universally recognized principles and norms, in particular, on the basis of the principle of the territorial integrity of states," said Asadov.
The conflict between the two South Caucasus countries arose in 1988 due to the territorial claims of Armenia against Azerbaijan. Nagorno-Karabakh and seven surrounding districts - 20 percent of the territory of Azerbaijan - are under the occupation of the Armenian armed forces.
In May 1994, the parties reached a ceasefire regime, and so far, under the auspices of the OSCE Minsk Group and with the co-chairmanship of Russia, France and the United States, peace negotiations have brought no result.
The four resolutions adopted by the UN Security Council on the liberation of the occupied Nagorno-Karabakh and the adjacent territories have not yet been implemented by Armenia.