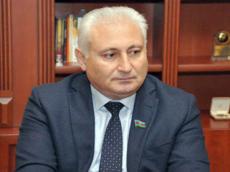 By  Trend
The exclusion of Armenia because of its aggressive policy from participating in all projects implemented by Azerbaijan is the reality of the region, member of the Azerbaijani Parliament Hikmet Babaoglu told Trend.
He noted that the holding of a solemn event dedicated to the 100th anniversary of the establishment of the Parliament of Azerbaijan, and the participation of numerous representatives of friendly and fraternal countries, delegations of international organizations are already regarded as a historic event.
This event once again brought to the attention of the world community the proud and glorious history, the history of the statehood of Azerbaijan, its present and future, said the MP.
"The whole world has once again seen that the people of Azerbaijan has a high culture of statehood, a rich history of parliamentarianism and has once again proved this by creating the first democratic republic 100 years ago, ensuring human rights and freedoms, recognizing the electoral right of women," Babaoglu said.
The Azerbaijani MP also noted that President Ilham Aliyev, who spoke at this anniversary event, described the creation of the first democratic republic as an important historical event, stressed that he highly appreciates the activities of the ADR (Azerbaijani Democratic Republic) and its founders, and noted that a number of events were held this year at the state level within the "Year of the ADR".
The MP said that President Ilham Aliyev, who touched upon the importance of the settlement of the Nagorno-Karabakh problem, stressed that the entire infrastructure had been destroyed in the occupied lands, national heritage had been plundered, and a war crime - the Khojaly genocide had been committed against the Azerbaijani people.
"Nagorno-Karabakh is historical land of Azerbaijan, and it will not receive any status outside the sovereignty of Azerbaijan," Babaoglu added.
"The guests were informed about the commitment of our country to democratic values, the presence of a highly tolerant environment, the existence and development of traditions of multiculturalism, the achievements in the construction of the rule of law and it was stated that our country will continue this policy. The successes achieved by Azerbaijan in a short period of history, the determination to defend its national interests are a clear example of commitment to the traditions of the ADR," Babaoglu said.