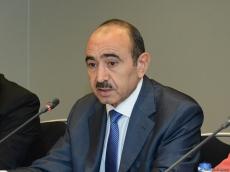 By  Trend
Vulnerable situation in Azerbaijan's Ganja city requires close cohesion of society around the state, Azerbaijani president's assistant for public and political affairs, head of department, Ali Hasanov wrote on his page in Facebook July 11.
"Answering the question of a BBC employee about the assassination attempt regarding head of Ganja Executive Power Elmar Valiyev on the evening of July 3, guided by the preliminary information, I said that this is a criminal act committed against the head of the Executive Power, that an armed attack was committed, the head of the Executive Power and his bodyguard were wounded, the perpetrator of the crime was detained and that the law enforcement agencies are taking the necessary measures," Hasanov said.
It would be incorrect to give more detailed comments on such grave crimes without the conclusion of the relevant bodies, he noted.
"My statement as a government official, of course, was related to the desire to inform the public that the government took control of what had happened," he added.
In a joint statement issued July 6 by the Azerbaijani Prosecutor General's Office, the Interior Ministry and the State Security Service, it was noted that the crime was of terrorist nature and that the perpetrator of the crime Yunis Safarov was a foreign citizen who participated in military operations not sanctioned by the Azerbaijani state.
From the articles that were published in local and foreign media, and from the repeatedly distributed video messages of the assailant's wife, it became known that this act wasn't committed for personal reasons, not for the purpose of revenge or in protest against "social violence", but namely for the sake of "ideas", for which he fought in Syria - to restore the Sharia (Islamic law) state.