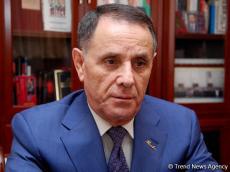 Trend:
Intensification of efforts by the OSCE Minsk Group is important in the Armenia-Azerbaijan Nagorno-Karabakh conflict's fair settlement, Azerbaijani Prime Minister Novruz Mammadov said June 22 at a meeting with a delegation of permanent representatives of OSCE member states.
Novruz Mammadov expressed satisfaction with the meeting with the permanent representatives of the OSCE member states.
Noting that unstable international situation is presently a matter of concern, the prime minister stressed that such meetings create opportunity for discussions in connection with the global situation.
He noted that while remaining committed to the strategic course determined by the great leader Heydar Aliyev, Azerbaijan maintains close cooperation with the EU.
As an example of these relations, Mammadov stressed the important role of Azerbaijan in ensuring Europe's energy security.
Azerbaijan's role as a transport hub connecting Europe with Asia was also stressed at the meeting.
The head of the delegation of the permanent representatives of the OSCE member states, Permanent Representative of France to the OSCE Veronique Roger-Lacan expressed her gratitude for the hospitality extended during the visit. The diplomat said that such visits are made annually to the OSCE member states.
Members of the delegation noted that although Azerbaijan is a young independent state, it is becoming an exemplary country of the region by implementing major global projects.
At the meeting the sides also discussed issues of mutual interest.
The conflict between the two South Caucasus countries began in 1988 when Armenia made territorial claims against Azerbaijan. As a result of the ensuing war, in 1992 Armenian armed forces occupied 20 percent of Azerbaijan, including the Nagorno-Karabakh region and seven surrounding districts.
The 1994 ceasefire agreement was followed by peace negotiations. Armenia has not yet implemented four UN Security Council resolutions on withdrawal of its armed forces from the Nagorno-Karabakh and the surrounding districts.