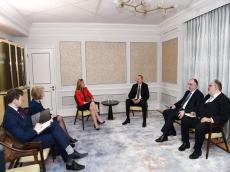 Trend:
Azerbaijan's President Ilham Aliyev, who is on a visit to London, has met with Baroness Rona Fairhead, the UK Minister of State for Trade and Export Promotion.
At the meeting, Baroness Fairhead congratulated the head of the Azerbaijani state on his victory in the presidential election. She recalled her visit to Baku with pleasure.
The sides exchanged views on development of the bilateral relations, particularly issues of investment, business relations and cooperation in the field of agriculture.