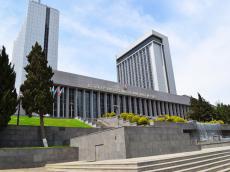 By Trend
The Parliament of Azerbaijan will send a congratulatory letter to President Ilham Aliyev in connection with the presidential election held on April 11, said the parliament's speaker Ogtay Asadov.
He made the remarks at a meeting of the Azerbaijani Parliament on April 21.
Asadov wished success to President Aliyev in his activities.
The incumbent head of state, Chairman of the New Azerbaijan Party Ilham Aliyev garnered 86.02 percent of votes in the April 11 election, securing his position as the head of state for the next seven years.