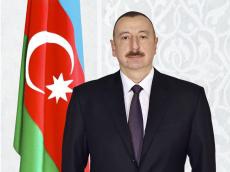 By  Trend
An inauguration ceremony of Azerbaijani President Ilham Aliyev will be held on April 18, Executive Secretary - Deputy Chairman of the ruling New Azerbaijan Party Ali Ahmadov told reporters on April 17.
Azerbaijan held presidential election on April 11. The incumbent head of state, Chairman of the New Azerbaijan Party Ilham Aliyev garnered 86.02 percent of votes in the election, securing his position as the head of state for the next seven years.
In accordance with the Constitution of Azerbaijan, the country's Cabinet of Ministers will resign following the inauguration of the president, Ahmadov said.
Following that, a new Cabinet of Ministers will be formed, in accordance with the Constitution, according to Ahmadov.
A plenum of the Azerbaijani Constitutional Court on approval of the protocol of the Central Election Commission on the presidential election held on April 11 2018, and on the election result was held on April 17.
Chairman of the Constitutional Court Farhad Abdullayev announced the results, and the Constitutional Court's Plenum approved the results of the April 11 presidential election.