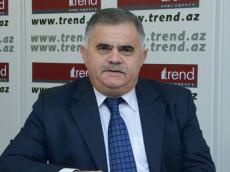 By Trend:
The prejudiced report of the OSCE Office for Democratic Institutions and Human Rights (ODIHR) on the presidential election in Azerbaijan surely causes regret, expert Arzu Nagiyev told Trend on April 13.
He made the remarks commenting on the preliminary conclusions of the OSCE/ODIHR presented at a press conference on April 12. The mission, which voiced opinions not reflecting the reality observed at the election, announced that the final report will be made public within two months.
The expert noted that observers from European countries had repeatedly stated that the electoral process was held transparently and in compliance with international standards.
"Specific opinion of each observer on fairly holding the presidential election in Azerbaijan was reflected in local and foreign media, social networks. The statement made by the OSCE Parliamentary Assembly and ODIHR following these, in fact, is absurd. An interesting point is that several radical groups calling themselves "democratic forces" have demonstrated a clear bias in their statements. There is no doubt that a pre-prepared text and script stand behind this," he said.
This policy springs from double standards, according to Nagiyev.
"This is a step taken against the domestic and foreign policy of independent Azerbaijan. From a technical point of view, a mission that is unable to make any comment, cannot influence Azerbaijan's political course with its declarative statements that are not based on any facts," the expert said.