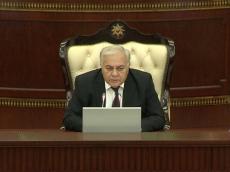 By  Trend
Far-sighted economic policy of President Ilham Aliyev made it possible to prevent the negative impact of the global economic crisis on Azerbaijan, speaker of Azerbaijani parliament, Ogtay Asadov said.
He made the remarks on November 21 during discussions of the 2018 state budget in the Azerbaijani Parliament.
Asadov said the discussed budget package reflects positive dynamic changes in Azerbaijan's economy.
The parliamentary speaker noted that the share of the non-oil sector in Azerbaijani budget's revenues reached 50 percent, and this is an indicator of the sector's development.
Asadov stressed that diversification of the Azerbaijani economy, improvement of the business environment increased the country's economic competitiveness, and Azerbaijan's position in international ratings has improved.
He added that Azerbaijan's draft state budget for 2018 was drawn up taking into account the economic situation of the country and modern challenges.
"This year, just like each year, the state budget is socially oriented," Asadov said, adding that the budget also makes it possible to increase the country's defense capabilities.